Star Wars Figures, Playsets & Vehicles on Sale at Multiple Retailers
---
Star Wars figures, vehicles and playsets are currently on sale at multiple different retailers across Canada.

Toys"R"us is offering all regular Star Wars action figures for $6.95 each. They also have Deluxe Figure & Vehicle sets, as well as some larger vehicles marked as being on 'clearance'. The deluxe Figure and Vehicle sets were $14.98 and prices on other items varied.

Some Walmarts have matched Toys"R"us's price on the figures and are thus offering them for $6.95 as well.

Real Canadian Superstores have their Saga Legends figures on sale for $5.95 each, the Deluxe figure and vehicle sets for $14.98 each as well as the Star Wars Transformers for $12.98 each.

These prices were all sighted in Manitoba. Please let us know if you are seeing similar pricing around the rest of the country.
__________________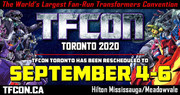 Visit the official
TFcon Toronto 2020
Website for all the details!