New Power Rangers Beast Morphers Released in Canada
---
Thanks to AFN member riderman we are now know that numerous new Power Rangers Beast Morphers have been found at a Toys"R"Us in Ontario.

Share what action figures are being sighted in your area in our Canadian Action Figure Sightings Forum.
__________________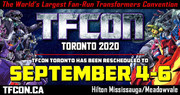 Visit the official
TFcon Toronto 2020
Website for all the details!